The next chapter meeting will be held on Thursday, July 13, 2017 at Optiv Headquarters, 3875 Hopyard Road, Suite 260, Pleasanton, CA 94588 from 7:00 pm to 9:00 pm.
Agenda for the meeting is as follows:
Welcome and Introductions
Presentation on "Countdown to Regulatory Compliance: Is Your Organization Ready for GDPR & NIST?" by Robin Basham, CEO, Founder, EnterpriseGRC Solutions, Inc.
Any other business.
Speaker:
Robin Basham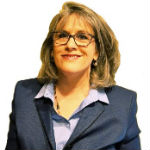 CEO CISO EnterpriseGRC Solutions An Elastic Compliance Company, with a recent contribution in engineering system policy rules into the ARAP product, as VP Security and Compliance at Cavirin, Robin Basham provides thought leadership in delivering concrete security programs that transform compliance burden to strategic advantage. Certified Information Systems Security (CISSP), Audit (CISA), Governance (CGEIT) and Risk (CRISC), earning two master's degrees in Technology and Education M.IT & M.Ed, Robin is known in fortune five Boston, Mid-Atlantic, Silicon Valley and East Bay as consultant, frequent speaker, educator, and board contributor. Enterprise ICT GRC expert and early adopter in both certifying and offering certification programs for Cloud Security and Virtualization, Robin has industry experience in management of systems, controls and data for SaaS (IaaS and PaaS), Finance, Healthcare, Banking, Education, Defense and High Tech. Positions held include Technology Officer at State Street Bank, Leading Process Engineering for a major New England CLEC, Sr. Director Enterprise Technology for multiple advisory firms, founding, engineering product and running two governance software companies, and most recently Director Enterprise Compliance for a major player in the mortgage industry, Ellie Mae. Current partner organizations include Allgress, Seclore, SVA, ZOHO, PerimeterX, SANS, ITpreneurs, Aruvio and much more.
Consulting at CISCO ISMS Program Leader
Kindly confirm your attendance for the meeting by July 11th, 2017, along with your preference of pizza (Veg/Non-Veg) so that we can place order accordingly. We need to provide the attendee list to our host for badges. To RSVP or for any questions regarding this meeting please contact communications@isc2-eastbay-chapter.org.
BD