Subject: Complimentary Admission to Region's Official Virtual Cyber Security Summit Featuring NSA & The FBI – June 9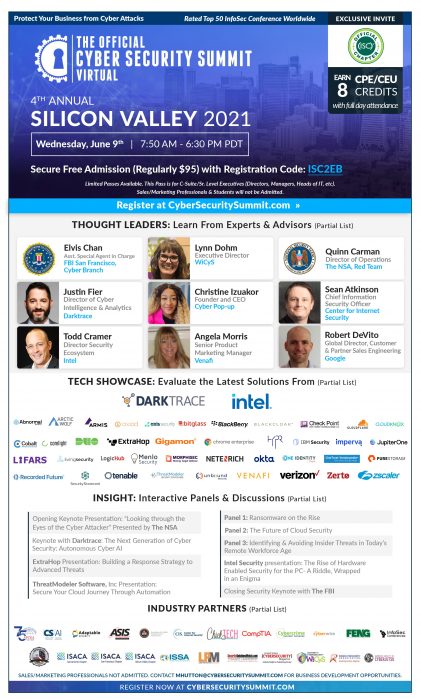 ISC2 East Bay is proud to partner with the Official Cyber Security Summit this year for the Virtual 4th Annual Silicon Valley Cyber Security Summit on Wednesday, June 9.
Admission is normally $95 but we have secured Exclusive FREE Admission!
To secure your pass, register with code ISC2EB at https://CyberSecuritySummit.com/Summit/SiliconValley21/
Earn up to 8 Continuing Education Credits by attending the day in full.
Join us virtually and learn about the latest cybersecurity threats facing your company, best cyber hygiene practices, solutions to protect against a cyber-attack, and much more – all from the comfort and safety of your home/office.
The Director of Operations of The NSA, Red Team will be leading a Security Keynote – "Looking Through the Eyes of the Cyber Attacker" – Exclusively at the Cyber Security Summit!
Additional thought leaders include the Asst. Special Agent in charge, FBI San Francisco Cyber Branch and other SMEs from Cybercrime Support Network, Center for Internet Security, Darktrace, ExtraHop, Intel and many more.
You are welcome to share this invitation with your IT Security Team and other Senior Level colleagues who would benefit from attending this event.
Please note: Admission is for C-Suite/Senior Level Executives, Directors, Managers, and other IT/Cyber Professionals and Business Leaders. Those in Sales / Marketing and Students are not permitted.
We encourage you to attend this invitation-only event, rated Top 50 InfoSec Conference to Attend Worldwide!
For event details, visit https://CyberSecuritySummit.com/Summit/SiliconValley21/
If you would like to exhibit and/or speak at the Cyber Security Summit, contact Megan Hutton at MHutton@CyberSummitUSA.com.