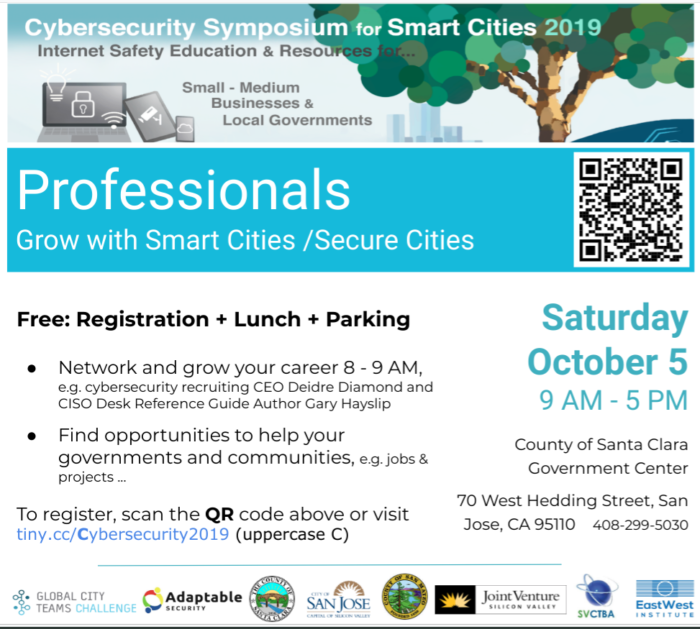 Silicon Valley Chapter Meeting October 15th, 6-8:30 PM.
When Tuesday, October 15, 2019 from 6:00 PM to 8:30 PM PDT Where McAfee – 2821 Mission College Blvd, Santa Clara, CA Dinner this month will feature Ethopian food and we're back at our normal location at McAfee!. Early registrants get their $5 entry fee back when they attend. Speaker Summary There are a million people saying that blockchain will solve all trust problems, but recently IOT has taken over our world and is expected to see hockey-stick like growth in the number of devices in the coming years. Can these technologies work together? Some of the best-expected benefits of IOT are realized when you combine with a trusted repository (like blockchain). Will the combination solve our problems, or just create more issues? What risks will businesses take? What are the advantages for your company? We'll examine what's happened over the last couple of years, some of the high-profile media cases and dive into lessons learned from what we've seen within our world as security experts on both these topics.

SF ISACA CHAPTER – ANNUAL FALL CONFERENCE – OCT 28-30
Starts: 
Oct 28, 2019 8:00 AM (PT)
Ends:  
Oct 30, 2019 5:00 PM (PT)
Since its start in 2001, the SF ISACA Fall Conference continues to be the premier education event for information technology audit, security, governance, risk and compliance professionals in Northern California. Last year's event drew hundreds of attendees and we are expecting that number to grow this year. Priced at roughly 1/3 of what many similar conferences charge, the SF ISACA Fall Conference represents Northern California's best educational value for IT audit, security, risk, and compliance professionals. The SF ISACA Fall conference features five tracks packed with top flight speakers and cutting edge topics.
The Information Systems Security Association (ISSA) is a not-for-profit, international organization of information security professionals and practitioners. It provides educational forums, publications and peer interaction opportunities that enhance the knowledge, skill and professional growth of its members.
The Silicon Valley ISSA chapter is comprised of over 250 Silicon Valley Information Security Staff, Consultants, Managers, Executives, and other business professionals. Our members come from Small Businesses and Fortune 100 companies. Our demographics are diverse, yet we share the common thread that we understand the criticality of Information Security as an enabler of today's key business objectives and the improvements that will come tomorrow.